Separate machine for each application
The most typical scenario would have each DriveWorks application on a separate machine, with a separate file server and a separate SQL Server.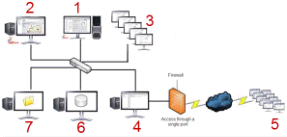 #

Application(s)
Notes
1
DriveWorks Pro Administrator
2
DriveWorks Pro Autopilot

DriveWorks Autopilot can perform all or any of the following functions:

Specification Processing
Email Processing
Model Generation - Requires SOLIDWORKS to be installed on the same machine.
3D Preview

To balance the loading of the Autopilot machine these functions can be split over several machines. In this instance separate licenses of Autopilot are required.

3
DriveWorks Pro User
4
DriveWorks Pro Live
5
External Users via Web Browser
6
Database Server, DriveWorks Pro Server, DriveWorks License Management
7
File Server
All DriveWorks project data is located here. All new data generated by Autopilot is located here.